Messing About In Boats
From an early age I've been interested in boats, partly because my Father spent a fair bit of time on the water but I was also a keen Arthur Ransome fan and Swallows and Amazons helped nudge me in that direction. While at secondary school I had the chance to crew for a school friend in his families Mirror dinghy which set me firmly on my way. Other crewing places followed, but when I left school I took to motorcycles and for several years they gained my full attention. So it wasn't until I was in my early twenties that I managed to buy my first dinghy.
On many occasions when crewing in races in a Mirror in Chichester harbour I would gaze with envy at the way the Albacore fleet from Chichester Yacht Club (CYC) would pass us effortlessly in the lightest of breezes. So when I decided to buy my own dinghy it was simple, I'd be getting an Albacore! A trip to Canvey Island and an exchange of a couple of hundred pounds and I was the proud owner of AL 716 aka Sizzle.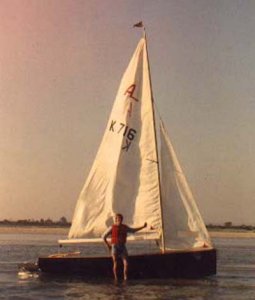 Several years followed with much fun had in the harbour. However, another friend had started to sail from Pagham and the thought of fewer restrictions imposed by tidal waters seduced me to move from the harbour. It was at this time I started to play around with canoes and this combined with the difficulty of hauling an Alb up a shingle beach meant that before long I'd sold Sizzle and started a lengthy period of canoeing.
It was at this time I met Alison. She was quite a keen Kayaker at the time but I soon had her converted to the ways of canoes. Together we have paddled many of the rivers around the UK and ventured as far afield as the Zambezi in Zimbabwe. You can read about some of our trips in the Rubber Duck Club pages. During one of our trips paddling from Oban to the head of Loch Etive and back I began to think that we should be doing this sort of thing in a sailing dinghy, so the seeds were sown.
I was thinking that a Hobie Cat might suit but the cost was beyond our modest means. I had, however, been keeping an eye on the Albacore small ads, so when AL21 came on the market she seemed too good an opportunity to miss. So here we are, the current fleet stands at an Albacore and the Old Town Penobscot.
Launch Sites
I've been trying to put together a list of as many of the places I've paddled and sailed from. Here's a Google Map of some, in fact there are quite a few places missing, but it gives an idea of where we'll travel to in order to mess about in boats!
Please bear in mind that the information for many of these places dates back to the mid eighties when I started canoeing. Some earlier still for launching sites for sailing dinghies. I advise you to make your own research into whether their use is possible and if fees need to be payed.
View Larger Map
Albacore 21 - Elizabeth
Elizabeth is the second Albacore I've owned and although I've actually sailed her very little I feel she is a rather important boat because of her age. As the number suggests she is the twenty first Albacore to have been built. This happend in 1955 at Fairey Marine on the South Coast of the UK. I have the original measurement certificate and this shows the boat builder to be a Mr C Guster. Until I bought her - she was called Alimony. This was because she was originally owned by a solicitor, Mr Jack Donnelly a founder member and secretary of Stokes Bay Sailing Club. Apparently several Albacores followed this line of naming with another owned by a doctor being called Alopecia. Anyone know of any others?
Jack gave Alimony to his son John in 1960 who sailed her for several years. She then went to Mrs Eve Moyse for her sons Malcolm and Rod. I bought her from Malcolm in May 2002. I wasn't keen on the name and as I had inherited the money to buy her from my grandmothers estate I decided to rename AL21 after my grandmother. I have a couple of photos from the 1960's I'll post here when I get them scanned.
I've spent a little time sorting through some things over the last few days and managed to grab these images from video. They show me sailing Elizabeth at Wykeham shortly after I bought her. I'm afraid the quality is a little poor, but till I get some from this season they'll have to do. I know I'm sailing with only the main, but it was the first time sailing an Albacore solo in many years so I was being cautious.
Looking at these photos makes me think the boom looks very high. I must check that!
Seagull Outboard Motors
Seagull LS15703
This outboard belonged to my father before he kindly passed it on to me. It sat in a shed for many years and I hope I can get it running for use on Elizabeth. Hopefully three generations of Girling's may enjoy using this stalwart of British engineering.
Using the Saving Old Seagulls site by John Williams I've managed to find out this from the engine number. This out board is a Seagull 40 plus manufactured between 1953-54 and has a 78cc engine with a claimed 2-3 hp.
A few shots of Seagull LS15703. These are thumbnails and link to larger images for closer inspection. These pictures are very large to give good detail.
If you would like to know more about British Seagull outboard motors and their history or have any questions I'd thoroughly recommend you look at www.saving-old-seagulls.co.uk. There is an excellent knowledge base within the forum too. So head over and have a look.