Blog
Well, more the ramblings of an old git!
Well, it's not a proper blog, so you can't comment on what I post here directly, but if you'd like to say something you're welcome to contact me using the link at the bottom of the page and I might even put it here for public viewing.
Mon Mar 24th 2008
Easter Weekend and we seem to have spent more time sitting inside watching snow falling. I'm none to impressed as I planned on getting a fair bit of work done at the allotment. I put a plastic sheet over an area of freshly turned soil intended for use as a seed bed, but that's been the total of my gardening activity this weekend!
We did manage to snatch a little time on the plot in the village, but this was for a little egg rolling for Charlie's benifit. Charlie won with his egg remaining the most intact. We managed to complete this in bright sunshine, but as we walked home the skies darkened and the snow came again. Ah well! Back in front of the log fire again.
Tues Jan 8th 2008: Chickenout.tv
Ali and I have been watching Hugh Fearnley-Whittingstall the last two nights and although we cut right down on poor quality meat a number of years ago. We are still pretty appalled at what passes for acceptable standards for rearing chickens for meat. I've signed up to Hugh's campaign and you can use the link below to find out more and sign up yourself.
Sorry, I've removed Hugh's Chicken run graphic as it was absolutely pants when run through the W3C validator.
Please take the time to look at the info on Hugh's site! I think the sadest thing is that quality chicken meat isn't really that much more expensive, yet the taste simply can't be compared.
Thur Jan 03 2008 Family update!
This is a little overdue, but I'd just like to announce the arrival of my second son William. Born on Dec 06; our little bundle of noise, I mean joy! :) He seems to settling in to life at home and Charlie has taken to him and helps out more than we thought would be possible. Here's a picture of the man in question: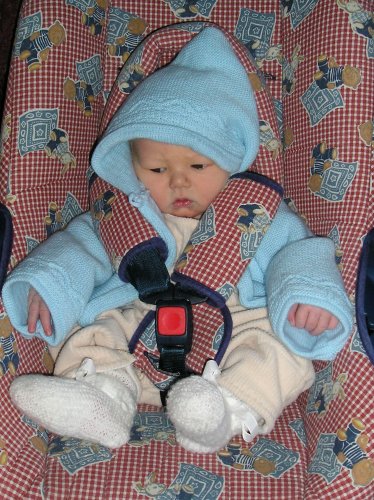 There you go, butter wouldn't melt...
Charlie is very willing to help out too!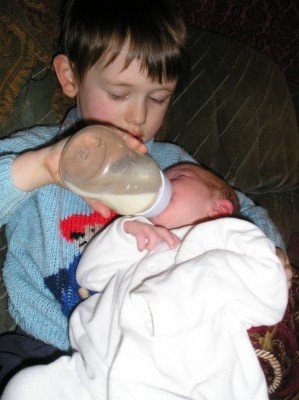 Wed Apr 25 2007 Miracle Open Meet
This was over a week a go now, but still worth a mention! Saturday morning saw me rushing around in traditional fashion, as I searched through the spare room like a snow blower, to find all my sailing kit, last used over two years previously. With all my finds stuffed into a bag and grabbing my camping kit too, Stan and I set off for North Lincs. After a spot of bother finding the club I joined Martin in rigging Georgiana for our first race.
Martin insisted we fly the spinnaker as often as possible, which probably slowed us more than helped. My only other experience with the kite being the two years previous when I crewed for him at his local club for the Commadores Cup! Needless to say our final position for both races that day were fourteenth out of, er, fourteen. Both races! Never mind, we enjoyed ourselves, and gained valuable experience. Well, that's what we told ourselves! Must have worked though as on Sunday, first race we came 11th out of 15. Hurray! For the two last races, Carmela (Martin's niece) had arrived and crewed. I'd had a great time though and enjoyed watching from the shore and soaking the hot sunshine into my rather aching joints.
Nice one Martin, I'm looking forward to the next one in May already!
Fri Apr 13 2007
Just a quick update. We picked up Stan on Monday and all is well. In fact, I'm rather impressed! It's so nice to be back behind the wheel of a car with a proper engine again.
Today I managed to get my trailer finished and back on the road. Phew! Hard work and tested my welding skills, I really should weld more often to keep my hand in. I'll pop a piccy up to show my handy work soon.
Time for bed folks, I've an early start as I'm off sailing tomorrow. I'll be sure to let you know how we get on.
Sat Apr 7 2007
We spent a fair bit of time in the garden yesterday, although I did pop out with Maurice for the first horse manure collection mission of 2007. At home I dug the trench for the simple foundations for the greenhouse. Hopefully I'll get that layed this week and can then get on with digging the hole for the Strawbridge Heatsink. I have to buy the solar PV panel for this and the controllers etc. but they're readily available, so not a problem. Time was also spent preparing the ground for the new herb bed close to the house. We have a reasonable variety already, but will get that planted up in short order.
Still, we've lots of the weekend to go yet so watch here to see what else we achieve!
Fri Apr 6 2007
Well, things are going ahead with my usual luck! We picked Stan up on Tuesday, he looked great with the new roof rails fitted so we might load up the canoe ready for Easter. Four new tyres and smily faces all round. Back home to drop off Nev and the four of us headed off to visit Aunty Pau. Generally very pleased, though the gear box is a little worn and selecting first gear isn't as slick as it could be, but it's a high milage car so not unexpected. However, reversing into the drive at Pau's it became obvious that steam was coming from under the bonnet! Aaargh! A phone call to Hutton Bros and they rapidly sent someone with a courtesy car and collected Stan for a look over.
Next day a phone call first thing and worst fears are confirmed. Stan's head gasket has blown! Everything is being taken care of, but it has shaken my confidence. We should be getting him back after Easter, so we'll have to wait and see after that.
Wed Mar 28 2007
A few weeks a go someone drove into the back of us and damaged out trusty Peugeot 405 (Norman). At first I thought it would be easy to repair and a small cheque from the other fella to cover costs and all would be well. Sadly no! It turns out Norman has been written off. A real shame as he's done stirling service over many many miles. Late last week a car transporter arrived early in the morning and Norman took his last journey. Much sadness at Girling towers! However, life must go on and a visit to Hutton Bros. in Slingsby and we have a replacement. Stan!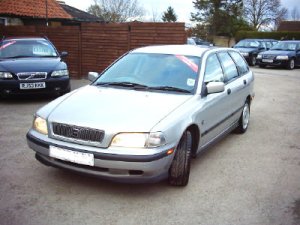 A Volvo V40 Estate will be ready for collection next week. Yeehaa! Lets hope he's as good as Norman and Henry were.
Ali will think there's something wrong with me if I fail to mention this, but during the comings and goings of sorting this out we've had the use of a Vauxhall Vectra, supplied by the insurance company to tide us over till we get back to normal. Suffice to say based on my experience over the last few weeks, I'll never be buying a Vectra! It's truly the worst vehicle I've ever driven, bar none! They really need to start again using a designer who'se actually seen a car. I'll confine my rant and save you the list of dodgy design flaws and keep my blood pressure under control, but I'd certainly not recommend one.
So, while I never thought I'd be saying this, as of next week, a Volvo driver I shall be!
Thu Mar 8 2007
I've been studying the INEBG forum a lot recently and been led to a different type of hive I'm now going to investigate. Top Bar Hives as they call them are a very simple type of bee hive with few parts and a simple method of working with the bees. Used extensively in Africa, mainly because they are cheap to manufacture and require few parts on an annual basis, but also because of the need for few (read that as none) chemicals to control pests. As I grow my vegetables without chemicals I'd like to produce honey without them too. It seems like I might now have the chance!
I have the plans for another alternate hive, but with last years goings-on I've not had chance to build one. The hive in question is a Dartington Long Deep Hive and looks promising. However, I think I'll concentrate on getting a TBH built first.
For a bit more info on TBH have a look at Back Yard Hive.
Thu Jan 11 2007
I'm not quite sure where to start. Since my last message Things have been too grim to comment on. On the 22nd of November 2006 my Father Geoffrey Charles Etherton Girling died. He had battled with a serious condition since the end of March '06, but things finally grew too much and he passed away in relative peace.
As you can imagine, Christmas was not the jovial experience it should have been and it was only because of Charlie and his shear joy at the festive celebrations that made it bearable.
I've spent much time looking through Dad's things and learning about things he did but rarely, if ever, talked about. His National Service, which took him to Ismalia, Egypt in 1951 for nearly two years. I now know this was the height of the most dangerous time there with many service-men losing their lives; yet Dad hardly spoke of seeing any action. The closest he got was a tale of taking cover behind the thick base of a search light as he came under small arms fire while on sentry duty. His usual tales were of messing about in the sailing dinghys at the boathouse on Lake Timsah and of the Rover Scout Group. I now have many photos from that time which I'll cherish. I also have his diarys for the period too, which make fascinating reading. One thing I learnt from these diarys; during his time at Ismalia he bought a book about Woodcraft I always coveted as a small boy and which he gave me about ten years a go. Make and Do the Woodcraft Way by Eagleye Scout is probably the thing most responsible for my keen interest in Woodcraft. One day it'll be Charlie's, I hope he enjoys it as much as I have!
I've also been able to piece together some of my family history and will try harder to dig further into my ancestry soon. A small attache case came to light which contains details of my Grandfather Charles Thomas Girling and his Royal Naval and Merchant Navy service, which is for me really interesting as he died when I was five so my only real memories are of blowing out his matches after he'd lit his pipe and what I guess was his last Christmas when he and Nan stayed with us.
At some point I'll start a genealogy page here as the Etherton branch of the family is already recorded back to 1749.
I think that'll do for tonight. I hope to get back to some sort of normality soon and will be updating these pages regularly again. So until then, toodle pip!
Sat Nov 18 2006
How's this for strange then?
I was given some bees wax the other day and was surprised to see what amazing shapes the bees had created. This wax is from the cappings taken from frames of honey comb and given back to the bees to clean up the residual honey and what you see is the result of them working the wax to get the last bits of honey.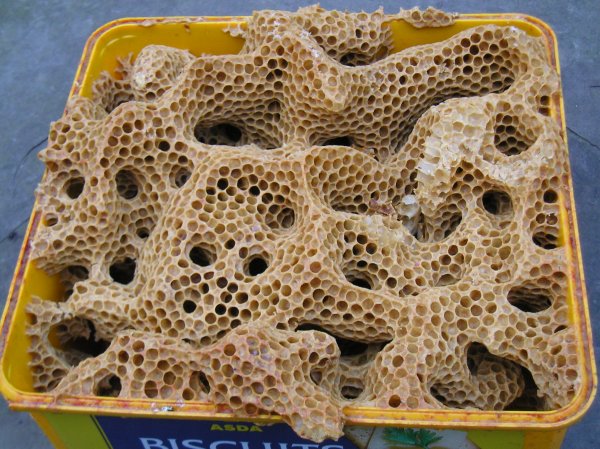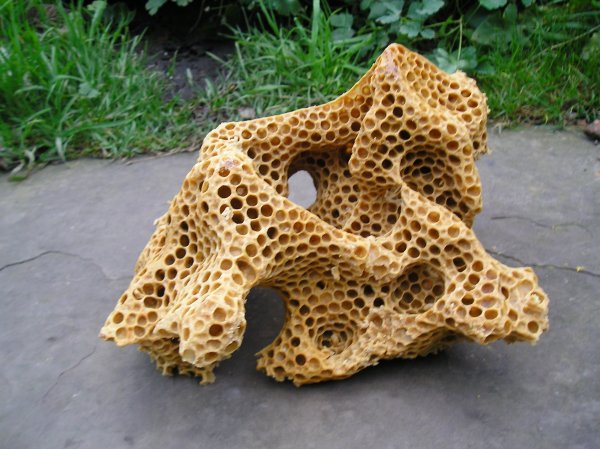 Wed Oct 18 2006
Oh my god! I'm in Linux Format!
Now don't expect anything too grand. I'm not being interviewed for my starting the Ryedale LUG or my thoughts on GPL3 or anything grandiose. Just a simple picture, and just the back of my head shining away in the glare of the University light during the Install fest from a couple of years a go, but it's definately me.
For those who might be desperate enough to see my little bit of press coverage, it's the November issue page 19 in picture accompanying the piece on York LUGs Ubuntufest. I know it's rather sad of me to post this about such a small thing, but there you go! I'm sure my Mum will be proud!
Sun Oct 15 2006
We spent some time at the allotment today. Managed to catch up a little, and were pleasantly surprised at the amount of produce ready. Here's a shot showing all we gathered today. OK, the jar of honey was taken earlier in the year, but everything else was collected today!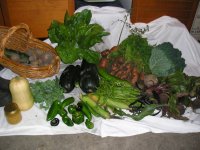 Wed Sept 27 2006
OK! So this is a little out of date, but I thought I should follow up on the Howsham Mill story. Despite getting 44696 votes, the Mill didn't win. A great shame, but there you go! Many thanks to all of you who voted.
Sun Sept 17 2006
A busy morning! Not only is it the Final of Restoration Village today, but I've been sorting out the details for the forthcoming Malton Forest Rally. Run by Malton Motor club this will take place on the 5th of November. This is a top class event held at Pickering Showground. See http://www.maltonmc.co.uk for more details.
Fri Sept 15 2006
Restoration Village comes to Ryedale!
A place we know well from canoeing on the river Derwent is being restored and has made it through to the finals of the BBC programme Restoration Village. Howsham Mill has been sadly neglected and vandalised over the years but now looks to have a good chance of a new lease of life as an education centre for renewable energy. To find full details of the mill, please look at http://www.howshammill.org.uk
You can help by voting too. All you need do is call 09013 600 507 and register your choice of Howsham Mill.
Costs as follows: Calls from a BT landline will cost £1. Calls from mobiles and other networks may vary. More than 77p from every call will be donated to The Restoration Fund, a registered charity (charity number 1098895). Monies raised from the voting lines will be used for the building that receives the most votes provided it fulfils the conditions set out by the Trustees of The Restoration Fund.
Please take the time to vote as this is really important. Both for Howsham village and for everyone to promote the use of renewable energy! The final will take place on sunday the 17th Sept, but you can vote now!
Tue Sept 12 2006
Good news on the bee front. A visit to the hive at Nunnington revealed the colony to be very strong and working well; bringing in plenty of grey pollon. So maybe I'll not have to start from scratch completely in 2007.
Here's a shot of the allotment taken earlier this month showing that I do in fact actually grow things there. Considering the amount of time I get to work there I think it's going quite well really!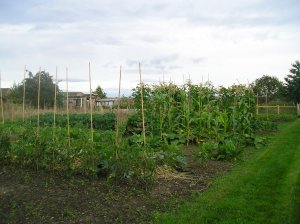 Another thought from last night. A friend has asked if I can keep an ear open for any jobs in IT. With this in mind he's sent his CV to me; while looking through it and reading his experience with computers it started me thinking of the various platforms I've used and am reasonably familier with. So for no reason other than my own interest. Here's my list:
Linux
NetBSD
FreeBSD
OpenBSD
Solaris
Win XP
Win 2000
Win ME
Win 98
Win 95
Win 3.1.1
DOS
This struck me as quite a shocking list. Particularly as I've installed most of those myself at some point or other. Exceptions to that being DOS, Win 3.1.1, Solaris, which used to the system for one shell account and is now OpenBSD, NetBSD, which is the system these pages run on and the accompanying shell account. The system most notable by it's absence being anything to do with Macs, but this is easily explained when you factor in the expense of anything Apple related. While I've tinkered a little with OSX, I'd not claim real knowledge other than familiarity with the underlying system which is basically NetBSD in a party frock by all accounts! All in all though, not a bad list for an enthusiastic hobbyist!
Tue Sept 5 2006
Bad news on the bee front/ Much to my annoyance, two hives have now been overrun by wasps. I'll check on my sole remaining hive this weekend when I visit Nunnington again. Will report back on the state of play there. I did manage to salvage five pounds of honey from the hive at home, but this is nothing to the amount of honey it should have produced this year. It was such a strong hive and when I'd previously checked it had nearly filled a super which should have produced nearly thirty pounds. Ho Hum! All part of the learning experience I guess.
Mon Aug 21 2006
Once again it's been a long time since my last post here. As usual much has been going on.
Charlie had a great time last month at Nunnington Hall, when Chitty Chitty Bang Bang came to visit. Raffle tickets were being sold with the winners being taken for a ride around the village. Sadly though we weren't winners, but did enjoy seeing the car in all it's glory.
A couple of weeks later Bruce, Katie and Alina came to visit for a couple of days. Which was very pleasent as we hadn't seen them since last year when we were able to visit them in Rapperswill. After leaving us they went to Scarborough and we were able to join them for a beach hut barby. Bruce demonstrated his new fire clubs and drew somthing of a crowd on the beach. Very pleased Bruce is still juggling.
The allotment has started to produce a good crop now with spuds, beans (broad, french and runner), courgettes, salad stuff, a few raspberries and strawberries, and more goosberries than you can shake a stick at. The cabbages are nearly ready now and the seetcorn is looking promising. I think we are going to have more sprouts than we know what to do with, but I'm sure we can find someone to trade with.
I seem to have found a limitless supply of horse manure (thanks Morris) which I'm trying to turn to compost ready for digging in this winter. Everybody says that horse muck is best for veg. I hope so I'm certainly not in short supply/ I hope next years crops reflect this.
I'm a little dissapointed with the bees this year, things have certainly not gone well for them. The dry weather reduced the amount of nectar available and the number of wasps and hornets this year has to have been seen to be believed. The hive at home has a reduced entrance black which allows passge for a single bee, but still they seem to be fighting a losing battle against huge numbers. I have a jam pot ontop of the hive and regularly empty this of hundreds of wasp/hornet bodies. Very frustrating. I had hoped to get a couple of hives up to the moors for the heather this year, but again being too busy in other areas has prevented this. Maybe I'll get some late honey from Ivy etc. Mind you, talk from those who have hives at the heather suggests they expect a poor yield this year. So perhaps I've not missed much.
Wed Jul 05 2006
Great news! Dad was allowed home from hospital yesterday. So that's just over three months he has spent in either St Richards of St Mary's. Many thanks to all who helped and looked after him!
Tue Jun 27 2006
Things are looking up for Dad again, physio seems to be on track and he is in much higher spirits again.
At home, I've been busy. Finally managed to get the biodiesel test batch I started at Newhouse Farm (NHF) washed and dry today. Take a look at the final product: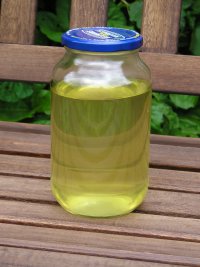 I'll try it in my multi-fuel camping stove later as it's hardly enough to put in the car!
Charlie and I spent some time at the allotment yesterday. Managed to get a few more things in, but everything is so late now it's taking on more of a practice run and I'm now just testing ideas and making preparations for next year now. I'll get some crops off, but all in all with the time I've had and the water I currently have available, I guess I'm pleased with what I've achieved though I hope to do much better next year.
I think I need to concentrate on getting water collection sorted out, which is starting to look good, and make sure I can collect sufficient over winter to last through the dry spells. I need to get lots more manure/compost on the land to improve the condition of the soil as it's currently quite poor. I really need to to sort out the timing of sowing/planting stuff to. I think my rotation should be reasonable enough, but that won't become apparent for a few years I guess.
Enough for now though. Time to get on with more work!
Tue Jun 21 2006
Yesterdays news was by necessity a summary of the events since March. You can probably imagine I'm just starting to catch up with normal life a little now Dad has returned to Chichester. While he is still in hospital, the worry and pressure has been a great deal reduced and we felt able to take a short break to Cornwall.
We managed to make arrangements for this to coincide with something I've been considering for a number of years now. Namely, making my own Bio-diesel. Some will have seen the recent TV series "It isn't easy Being Green" were Dick Strawbridge and his family move to an old farm house in Cornwall and do as much as they can to reduce their environmental impact on our over abused planet. Well, I was fortunate enough to get a place on a course to learn to make both Bio-diesel and a homebrew reactor for the process.
So the weekend before last, we all headed south to visit Dad before our break in the west. I'm pleased to say that Dads condition continues to improve. All but slowly of course, but his recovering was never going to be a rapid one with all he's been through.
After the weekend, we headed west for Cornwall. All four of us, with our campsite booked and a mixture of excitement and a little trepidation as this would be Charlie's first camping trip. Nothing to worry about really. Charlie took to camping like one born to it. Which I guess he was really considering the amount Alison and I have camped. Our new tent performed very well and the two sleeping compartments meant Charlie stayed with Mum while I got to share with Rocky. What a good dog he was too. We were blessed with lovely weather with only a little drizzle on one day, which was more refreshing than unpleasent. Trips to Restormal Castle and the beach at Polkerris and walking around St Catherine's Castle and passing the house where Daphne de Maurier once lived. Ice creams on the beach and fish n' chip's eaten with salty fingers in the evening. H'mm wonderful!
Wednesday was course day and with thanks to Nathan and Annabel also on the course and staying at the same campsite we arrived at the Strawbridge family home. It was great to meet Dick and Brigit. Jim too who does much of the technical stuff and is a star in his own right. The day was spent on the theory of the process, making our own one litre batch and being shown the reactor made by Dick and Jim. We also had a full tour of the place and were shown all the various bits of kit used to make their lives greener. The water wheel is fantastic, how such a large object can be powered by such a small amount of water only highlights how much power is wasted in this country with the many hundreds of wiers on our rivers that remain abandoned when they could be generating power. Lunch was in the farm-house kitchen and many thanks go to Brigit for such a glorious spread. All to quickly the day was over and with a head full of ideas and techniques for turning waste into power we made our way back to the campsite.
One more day of ice-cream and bar-b-ques and we had to head home. Boo! Cornwall is a lovely place, just watch out for the hedges. We'll return another day to visit again, but it was time to put ideas into practice at home and catch up with work on the allotment and check on the bees etc.
All in all, a good break and very pleased that Dad is making such progress.
Mon Jun 20 2006
An absolutely horrible couple of months have just passed here. It started at the end of March with a call from my Mother saying that Dad had been taken into hospital with stomach problems. The following night at two in the morning she phoned again to say he had collapsed and his heart had stopped. The hospital staff had managed to resuscitate him, but had asked Mum to gather the family to his bedside.
It was with very dark thoughts that I drove the three hundred miles south. When I arrived at Dad's bedside we were told he had suffered a Dissected Aorta which had bleed into his chest collapsing his left lung and the subsequent low blood pressure causing kidney failure. A few days after his initial collapse Dad was considered stable enough to be moved from St Richards in Chichester to St Mary's in Paddington, London where he stayed for the next two months in intensive care.
He has now reached a stage in his recovery where he has only one bit of plumbing still attached and is able to get out of bed and walk very short distances. The care given made the difference and he has now been returned to St Richards where he continues to recover. We can only offer our heartfelt thanks to all the staff who helped him through these most difficult days.
I'd like to thank all of you who offered best wishes and other positive thoughts through this. The numbers of you from all over the world have been over whelming at times. From all the family, thank you!
Mon Mar 27 2006
Once again quite a lot has happened since I last wrote here. Most of all, my idea of starting a Linux User Group for Ryedale is starting to take shape. From our first meeting at the Spotted Cow in Malton, with four of us, to today I can report a reasonably amount of progress. We now have an account on the lug.org.uk server with a mailing list and shortly our own web site. I think the really hard work of publicising the group is about to start so that should keep me out of mischief for a bit!.
I've spent some time at the allotment over the last couple of weeks too. See what I've been up to by looking at 'Allotment Life'.
Yesterday was Mothers Day, so I was up early with Charlie to make sure Ali had breakfast in bed and that Charlie signed the card he chose in Hoppers. Very impressed that he signed both card and envelope the same. Not bad for someone approaching two. Breakfast seemed to go down well, Ali enjoyed her bit of spoiling. Even though Charlie did mug her for most of her grapefruit juice. Still, we're pleased it's so easy to get fruit into him.
Wed Mar 15 2006
As you can see, quite a lot has happened here. The reworking of the site has been going quite well and I'm pleased with the new menu. Sadly, you'll only get the full benefit of this if you use a proper browser. It does work with MSIE7, but as that's not due for official release just yet, all MSIE users will have to wait to see what the rest of us can.
Other news. On Sat 4th March I joined Martin for the annual trip to the dinghy show at Ali Pali for a great day out looking at all the boats we'd like but will never afford. We came away with a couple of bargains each and the determination to get our boats ready for the new season in good time. I met up with a couple of folk from the Albacore Association and the Classic and Vintage Racing Dinghy Association and plan to attend events run by both groups later this year.
Weather wise it's been pretty pants! We've had snowy showers which gave about an inch of snow. Not enough to get the sledge out or for any other winter type activities, but cold enough to be unpleasant and stop work in the garden. Lets hope things improve soon.
Wed Feb 22 2006
I'm pleased to say Rocky seems to have had no ill effects from his oil bath last week. Certainly had me worried for a while. I should have known that he has a pretty resilient constitution though.
It's been really cold and miserable the last few days. Even sleet and snow yesterday. Not gardening weather at all. Saying that I did manage to finish digging over the front garden Monday. It was very cold but bright so that went quite well, although I did retreat to the house for several cups of tea.
The girls were out and about collecting pollen over the weekend, They'll have retreated to the warmth and safety of their hives again now. Don't blame them at all.
Time for another cup of tea!
Tue Feb 14 2006
Valentines day! Well, my plans for a nice evening went awry.
Ali's car was in having a wheel bearing replaced so I had to take her to work and collect her in the evening. All seemed to go well. I had the house cleaned, dinner in the oven, Charlie fed and I'd even checked Norman (Peugeot 405) for oil,water etc. So, I collected Ali and on getting home we noticed wet patches around the house where Rocky had sat. Thinking he'd sat in some water I went to dry him only to find that it was oil from the can I'd hurredly stuffed in the car before going to collect Ali. So I spent the evening trying to clean the best part of a gallon of engine oil from Rocky's coat!
A couple of hours later Rocky and I were suitably stressed and wet, but at least he was relatively free from oil. A call to the vets to find out what could be done to reduce any possible ill effects from ingesting oil and I was feeding Rocky charcoal biscuits and milk.
Not what I'd planned for the evening at all.
Mon Feb 13 2006
Well, just had a very pleasant surprise. While taking a look around the garden this morning I heard the lovely sound of buzzing coming from the hive. Going to investigate I was greeted by this: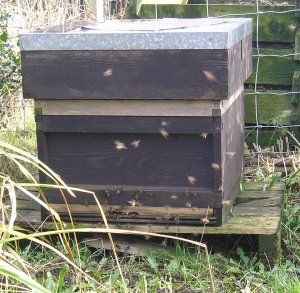 As you can see, plenty of activity. Lets hope they manage to find some flowers and gather some pollen to get some brood going. I'm very pleased with this! I'll see if I can check the out apiary later see if they are as active.
Sun Feb 12 2006
Yesterday I went to Chocfest, very good it was too. For those not familiar, Chocfest is the York Juggling Convention. This was the eleventh time the jugglers of York had made the effort to put together what can only be described as a top event.
I've juggled very little since last years event, apart from the week in Rappersville with Chutney last summer, so it was a good chance to catch up with some folk I used to see at the local club and at other conventions. It seems that there are a number of younger jugglers around now. Juggling at a very high standard indeed, so good it makes me feel that I should make more effort to finally nail five balls! Once again, the show in the evening was of an excellent standard with the finale from a young lad from the far east with Diabalo's. Truly outstanding performance. I should mention the Yorky Bar Kids too, as they, as a group of eleven to fourteen year olds, put on a show that most older people would have been proud of. Good for them, and I'll look forward to seeing them in years to come.
The Chocfest Cake Challenge had many entries this year, all of a very high standard. I've been promising myself to enter this with the new improved Bren's Choc Cake using my own Honey! Sadly though, while I had gathered the ingredients together beforehand. When I went to make the cake on friday, I discovered the biscuits had been eaten. Oh well! There's always next year! As usual we all had a chance to sample all the entries, very tasty too. I must say I didn't notice any chocolate covered vegatables or other strange tasting cake so I can only imagine that Miark didn't enter this year!
Overall, I'd have to say a great day for all the family and all for £6 too. Well done and many thanks go to all the organisers.
After Chocfest I'm feeling in a pretty positive mood and managed to finish getting my Mead sorted. Shame I now need to wait a couple of years for it to mature. Ah Well! I'm sure it'll be worth it.