A Summers Day!
This is another trip from many years ago. Back in the days when I owned an Albacore which I kept at a little boat yard a few hundred yards north of Del Quay sailing club in Chichester harbour. Dell Quay to East Head at the entrance to Chichester harbour and back is a trip of about 14-15 miles (if memory serves me right). Not a huge distance, but a pleasant little sail, with some nice fishing for flounders in places.
Setting Off
Low tide was set for mid-day, which meant if the weather stayed kind, then it should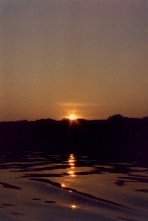 be a nice sail from Dell Quay to East Head and back. Going out with the tide was the only way I'd found to make this trip and still have time for a picnic lunch, a bit of fishing, general messing about and still having an easy trip back should the wind die!
I was enjoying the new found luxury of having my own car still, which enabled me to carry a fishing rod, food and a small stove plus sufficient water for plenty of tea. All-important that, tea. This a welcome break from carrying it on a bike.
So I was fresh and keen as I rigged the boat that morning. Everything was soon in its place and the boat on the water. A last check, nothing forgotten and off I go. To many of the people I now canoe with, the idea of heading off in a boat by yourself is completely wrong, but as someone who's enjoyed messing about in boats for years, it's quite natural. It also seems quite acceptable among those who sail, and so it was, I set off solo as I had done many times in the past, and will continue to do in the future.
Underway
The wind was moderate from the southwest (nothing unusual) which meant a bit of a slog to get to East Head, except for going through Itchenor Reach where all the larger yacht's are moored, which would be made on a single tack, with any luck. So I started to make my way to windward which was still very pleasant sailing, passing all the familiar landmarks. Copperas Point off to port, then down to the entrance to Chichester yacht basin, passed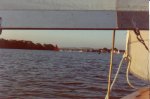 Longmore point to starboard where I recall we caught the centreboard of the Mirror dinghy we used to race from Chichester Yacht Club, too many times. Passed Bosham Hoe. Well and truly in among all the moored yachts now. Itchenor to port, then the Bosham channel on my right.
I had a few yachts moving with me, mostly under power, although a couple using sails. Once I was passed Cobnor point on the Chidham peninsula, the water opens up again with Thorney Island ahead with its military housing. Which at the time was home to many Vietnamese boat people. The pebble top of Pilsey Island stood out on an increasingly large area of sand as the tide rushed out. It was my intention to anchor in Stocker's Lake to fish for a few flounders or hopefully a Bass or two.
It was a brisk beat to windward, being solo in Sizzle, making my way down to Stocker's Lake, but the sun was out, I was well prepared and thoroughly enjoying myself. Arriving at my chosen fishing spot, out with the anchor, down with the sails, out with the fishing rod, baited with rag worm collected from the mud of Copperas Point the day before. Then a refreshing cup of tea!
Fishing
Tucked out of the way from the main channel as I was, I could enjoy a little fishing. It wasn't long before the rod tip dipped a couple of times before I struck into a smallish flattie, rod soon back in the water and for the next 3/4's of an hour several Flounders took my bait, and one small Bass, which I returned. It was very pleasant (apart from baiting the hook with rag worm, which are completely alien looking creatures which wouldn't be out of place in a Ridley Scott movie). But with a few Flounders in a bag my thoughts turned to feeding myself. Fishing tackle away, I sorted myself out for the short sail across to East Head. Up with the anchor and away. About a 1/4 of a mile and I'm at East Head.
East Head
East Head is basically a large sand dune on the eastern side of the entrance to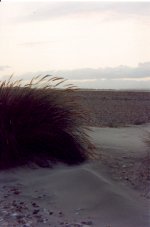 Chichester harbour. Its under the protection of the National Trust who manage it and do lots of work to preserve it. Its open to the public, provided they observe a number of by-laws. Only common sense things really. This was where I'd had lunch several times and was to be my lunch spot for today. Fortunately it can be reached at low tide, as although slack water had been and gone while I was fishing. Most of the harbour was still without water, but with a long line from the anchor, all was secure. I soon had the stove going and pasta & meatballs in gravy, my lunch for today. Boil up some more water to refill my flask and another cuppa and I was set for the return journey.
Time to return home. Never mind, the wind has eased but that's not a problem. I'll be on a run most of the way home, assisted by the tide too. Lovely! All the gear packed away and set off for home.
Heading Home
It was really hot at East Head in the shelter of the dunes, I'd been able to top up the tan a bit. But now I was glad of another layer as I moved further out into the harbour. The late afternoon wore on as the landmarks I'd passed earlier slipped by. The ripple of water against the hull was as always restful. Compared to the pounding through some of the short steep waves that the wind against tide had produced on the way down. I've always enjoyed sailing in evenings and wasn't to be disappointed that night. As I got to Itchenor Reach the sun started to set and I was bathed in a wonderful coppery light. All I needed was another pair of hands and I'd have taken a photo, but here's one from another day, with a similar sunset.
With a beautiful glow behind me and a gentle breeze pushing me home I turned on to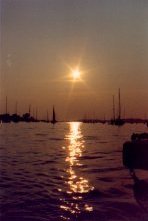 a lazy broad reach at Longmore Point. Barely moving faster than the little jellyfish with four pink squares as the tide took us back home. Up ahead I could see the fleet of Enterprises from Dell Quay had been enjoying an evening drift about. I was glad that Sizzle was an Albacore at this point as the class seems particularly good at making head way in even the lightest airs.
So with the last of the light I landed. Back again at Dell Quay. The Enterprises were all landing at the sailing club as I passed and it only with a bit of help of the tide I made the slipway. This was the end to another glorious day in Chichester harbour. Tired but satisfied I hauled Sizzle up the slipway, back to her space in the dinghy park.
As I drove home with the three flounders, I was happy to file away another set of memory's, which are as clear today as they were then.
Pictures and words, Al Girling.
Most of the photo's here come from other trips I made in the harbour, as you'll appreciate taking photo's while sailing a dinghy solo is rather difficult.